High Country is excited to announce that we are officially open at all 5 retail locations!

Thank you for standing by us & believing in us during these challenging times. We are incredibly grateful for our customers & staff. It's because of your support that we are still here!

We look forward to your next visit - so we can express our gratitude in person - whether it's an elbow bump, a gloved high-five, or a friendly smile - from six feet of course.
Safety measures have been implemented for the well-being of all (see below).
We can't wait to see you soon and get you back outside for your next adventure!

Warmest regards,

~ The High Country Family
---
High Country's Health & Safety Policies
We ask that any customer or visitor wear a mask covering the nose and mouth -- all employees must wear a mask.
Hand sanitizer is available throughout the shop for customer and staff use.
Staff & customers must maintain a distance of 6 feet when interacting.
We are thoroughly disinfecting before open, after close, and all surfaces throughout the day!
In complete transparency, this is what we require of our ALL High Country Personnel:
• If an employee feels sick, or has a fever, they MUST stay home.
•  If any employee has been exposed to someone who has tested "positive" for COVID-19, they may not return to work until they have tested "negative" for COVID-19, or they have quarantined themselves for a period of no less than 14 days and have exhibited zero symptoms.
•  If an employee tests "positive" for COVID-19, they may not return to work until they have met the following criteria:
          o It has been at least 10 days since their symptoms first appeared and
          o It's been at least 24 hours with no fever without fever-reducing medication and
          o Other symptoms of COVID-19 are improving
          **Loss of taste and smell may persist for weeks or months after recovery and need not delay the end of isolation.
•  All Employees must have temperature checked at the beginning of each shift. Must be under 100.4 deg F.
•  Employees must frequently wash hands and/or use alcohol-based hand rubs containing at least 60% alcohol
•  Employees must clean and disinfect work surfaces 3 times a day.
•  All Employees are required to stay 6 feet away from each other
•  Employees must wear masks to cover their nose & mouth when interacting with customers or other staff
•  All stores must have visible taped lines in front of check-out counters indicating 6-foot increments. Minimum of two 6-foot increments.
•  All employees must report any health & safety concerns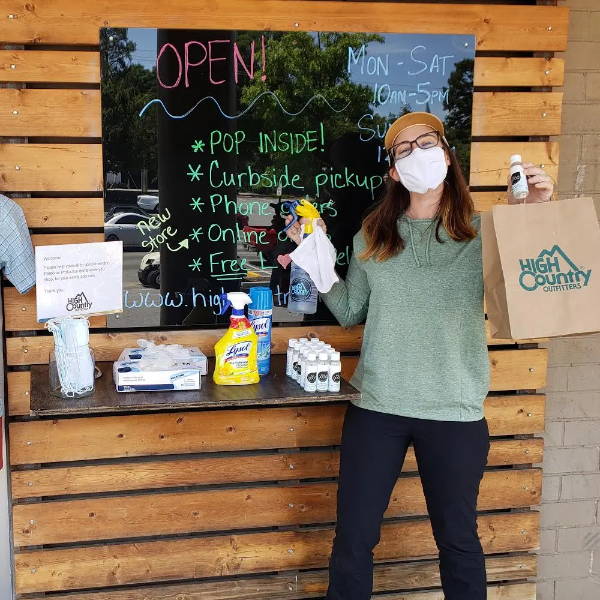 ---
NOT READY TO SHOP IN PERSON YET? NO PROB!

Shop Online and choose "Pick up" at checkout!
Choose your High Country location of choice.
You can always choose shipping as as well! Shipping is FREE with a $99+ purchase!
Questions? email us at support@highcountryoutfitters.com